Kommende Ausstellungen:
Boot Dusseldorf 2015
Jan 17th - Jan 25th
Ort:
Dusseldorf, Germany
Aussteller:
Letzte Neuigkeiten:
PES Solar article
2014 Sep 25th
With nearly four decades' experience at the cutting edge of the manufacturing sector, Victron Energy is an organisation with an impressive reputation for innovation and quality. We asked the company's Managing Director, Matthijs Vader to give us an essential overview. Lesen Sie den ganzen Bericht
We are looking for:
Sales managers
For Australia specifically: a sales manager living in Queensland and with experience with Victron products or similar. To apply please send a resume and introduction to Jan Klumpenaar,jklumpenaar@victronenergy.com.
Product Engineers, both hardware and software. See detailed description for the Software engineer position below.
A marketing / communications professional for our office in the Netherlands. See the description at Schaalx, the recruitment agency involved. Native English speakers with a basic understanding of Dutch are invited to respond as well!
To apply, please send a resume and introduction to Matthijs Vader, mvader@victronenergy.com. To apply for the marketing / communications professional, contact Schaalx.
Software engineer
Company
Victron Energy was founded in 1975 by Reinout Vader. Victron designs and sells inverters, chargers and more related power conversion products. The company has 60 employees, which includes 25 R&D engineers. We are a technology focused and sales driven company, and to stay leading, we rely on a strong R&D team. Most products contain software, and lately more and more of our unique features are in software. Most of the programming done at Victron Energy is in embedded C and related to real-time, control-loops, communication protocols and or user interfaces. The company structure is flat: management is done by Reinout and Matthijs Vader, and everybody reports directly to one of both.
Way of working
A typical software project is run from start till end by one software engineer. You will be responsible for your own work, from concept and architectural choices up to testing and finally tagging your release code and binaries. The flat organization gives a lot of freedom but also requires a high level of professionalism and autonomy.
Main technologies used
C, C++, QT, Python, QML
Canbus, RS-485, TTL / Serial communication
Example projects
Below two projects are chosen to show the variety in our software design work. On one hand, the Color Control GX, with a powerfull ARM processor, Embedded linux, and running several applications. And on the other hand a very small and low cost MPPT, no operating system, and direct-fet drive technology.
Color Control GX
http://www.victronenergy.com/panel-systems-remote-monitoring/colorcontrol/
Embedded Linux, based on Poky, running on an TI Sitara AM3517
Dbus
C / C++ / Python / QT / QML
Canbus
4.3" color display
MPPT Solar Chargers
http://www.victronenergy.com/solar-charge-controllers/
Firmware implements direct FET-drive control loops
Ultra-fast MPPT algorithm
No operating system
Updateable through encrypted boot-loaders
Communication to user through in LED's or custom LCD
Communication to outside through serial and/or canbus communication.
Mehr Leistung
Zwei Wechselstrom-Eingänge mit integriertem Umschalter. Der Quattro kann mit zwei unhabhängigen Wechselstromquellen verbunden werden: z.B. ein Landanschluss und ein Generator oder zwei Generatoren. Der Quattro wählt automatisch die aktive Quelle.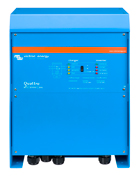 Zwei Wechselstromausgänge
Alle Quattro- und einige Multi-Wechselrichter/Ladegeräte haben jetzt zwei Wechselstromausgänge. Zusätzlich zu dem standardmäßigen unterbrechungsfreien Ausgang ist nun ein weiterer Ausgang verfügbar, der die angeschlossene Last während des Batteriebetriebs abschaltet. Dies stellt zum Beispiel eine geeignete Lösung dar, um zu verhindern, dass ein elektrischer Wassererhitzer die Batterie entlädt.